New Awards for The Rites of Passage
Jonathan Taylor's Goldberg Variations: The Rites of Passage garners awards for this debut novel.
The 2019 AMERICAN FICTION AWARDS named The Rites of Passage as a Finalist in its LGBTQ Fiction category.
The Eric Hoffer Award also announced that The Rites of Passage was named finalist in the Category Best LGBTQ Literature.
These honors are in addition to the Falkner award Finalist for General Fiction.
---
Jonathan Taylor's LGBT underground hit, The Rites of Passage now available on Amazon
Jonathan Taylor's new novel, The Rites of Passage is barely out and already getting rave reviews.

The Kirkus Review stated, "Jamie is thoughtful and highly sympathetic, and readers will be happy to follow him through the formative years of his youth. Taylor succeeds in capturing various moments (however painful or awkward) and revealing their importance.

Foreward Reviews stated: Jonathan A. Taylor's The Rites of Passage is marketed as the first in a series of novels; it also ably stands on its own. The story follows Jamie Goldberg from elementary school to college, as he grows from an abused boy into a self- possessed young man. His life is a symphony of pain, humor, filth, and beauty as he struggles to come to terms with his identity in homophobic America … Such complexities, in their willingness to understand the world and its uncomfortable truths, are the hallmark of Taylor's writing.
Six-time Emmy award-winning writer Patrick Mulcahey of The Bold and the Beautiful said: "The Rites of Passage's main character Jamie Goldberg is like encountering a gay Portnoy's Complaint, in its distinctive blend of Jewishness, sex, moral panic and maternal dominance."

The Rites of Passage is meant to appeal and also provoke the LGBT, Jewish, Progressive, alternative sexuality, and the Arts-loving communities and is particularly relevant to a new generation of gender and sexuality-related issues for adults and young adults alike.

Born in Detroit, Michigan, Jonathan Taylor is a writer and editor (living in San Francisco), with two published books and over seventy articles to his credit, mostly in the field of design. Jonathan was editor-in-chief, of Interactions magazine for four years. He is also a user experience designer working for companies such as Google, IBM and Nokia and a member Left Coast Writers, led by Linda Watanabe McFerrin.
---
New Book deal announced for the Goldberg Variations, the latest Jonathan Taylor Series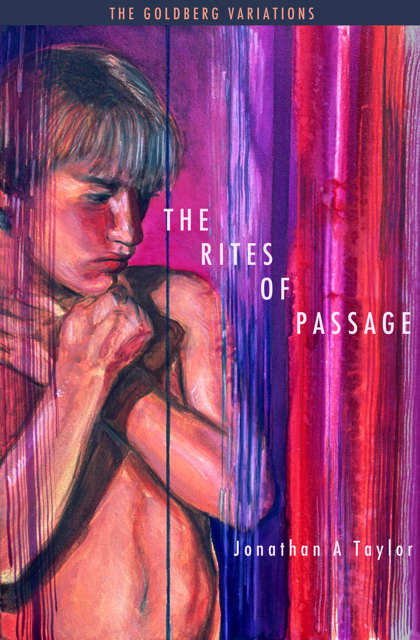 Announcing the launch of the new series from Jonathan Taylor. ArnoLand books announces the closing of a multi-book deal with procuring the rights to the entire Goldberg Variations Series.
"We're very excited to make this series the heart and soul of our catalog offerings," stated an elated Mr. J. S. Arnowitz, the intrepid CEO of ArnoLand Books. Mr. Jonathan Taylor, the author of the series is also very excited. "Finally this tremendous work will have a chance to get the exposure it deserves."
The series follows the life journey of its hero, Jamie Goldberg as his life is iterated into variations taking him from Detroit to San Francisco to Amsterdam and beyond. Each move signals a new 'variation.'
"The musical reference is not arbitrary but well thought out as the work incorporates metaphors from literature, music, and art," stated Mr. Taylor. "For those who can pick up on the references they can read the book on another level. For those who want a more relaxing read will still get a tremendous story."
"I think Jamie Goldberg is one of the great literary characters of this new generation of authors," stated Mr. Arnowitz. "Even the book cover is stunning, the work of Bay Area artist, Rene Cap[one, who paints some of the most compelling images in his mixed media works."
---